Katherine Mills
Interview with Katherine Mills, 2020–21 Marilynn Thoma Pre-Doctoral Fellow
The Foundation is proud to announce that Katherine Mills (PhD Candidate in the History of Art and Architecture at Harvard University) has been awarded the 2020–21 Marilynn Thoma pre-doctoral fellowship in art of the Spanish Americas. This year-long fellowship will support her work on her dissertation Unlocking the Cloister through Prayer: Ritual Lives of Nuns in Santa Catalina and Santa Clara, Cuzco, which explores the relationship between architecture, devotional art, rituals, and female power present in the two most important 17th century convents in Cuzco, Peru: Santa Catalina and Santa Clara. Mills' research will take her to Cuzco to personally examine the visual arts of each convent. Below the Foundation interviews Katherine about her background, influences, and research.
When and why did you choose to pursue advanced study of art of the Spanish Americas? Why is it important to you to contribute to the scholarship of this field?
When I began college, I assumed that I would study applied math, a subject I had loved since grade school. Since I thought I knew my major, I quickly set about fulfilling the core requirements for the Math degree and in the spring of my first year took a survey Art History course, titled "Western Art from 1300 to present." The course was taught by leading faculty in the department and I starred every professor with whom I wanted to take a subsequent course. By the end of that course I had over 14 professors starred, which was more courses than a major in Art History required. That realization incited me to change the direction of my undergraduate career and by the start of the following fall I was declared an Art History major. 
While the material initially grabbed my attention, it was not initially clear to me how one could conduct field research and produce new knowledge. Thankfully, I was exposed to both of these skill sets in my undergraduate education through attending a sophomore excursion course to Spain and writing a senior thesis. In the course, we learned the importance of viewing art and architecture that had been presented in class in situ. We also developed deep bonds with our fellow classmates and faculty, among whom I had the extreme pleasure of meeting Tom Cummins. Upon returning to campus the following year, I knew that I wanted to study something related to Spain and that I wanted to take more courses with Professor Cummins. I took everything he offered those next two years and grew to question the assumptions that the Western cannon places on our field through its emphasis on a singular definition of "beauty." I also developed a deep appreciation for all things Colonial.  Due to his mentorship and encouragement I traveled to Mexico for five-six weeks in 2010. I backpacked across five states looking for murals painted on the walls of monastic complexes. As I visited more and more churches, I realized that it was futile to study the murals without attending to the architectonic features and the engagement of the public with these spaces through ritual practices. Therefore, I dedicated my thesis to a study of these three elements in just one monastic complex.
Monastery of Santiago Apóstol in Cuilapan de Guerrero, Mexico. © N. Saum, photo by N. Saum.
It was not just the exposure to so many sites that improved my critical analysis of religious architecture in Mexico, but also my experiences with Mexicans at these same sites furthered my understanding of their complex place both in history and the present.  I will never forget the woman with the chicken at her feet who while riding the bus asked me why a young woman like myself was interested in her community's church.  Due to my mediocre Spanish I could not say more than that I really liked churches. I knew then that if I were to continue in the field, I would have to improve my colloquial Spanish, since it does little to no good if my research cannot be shared with those who live in the vicinity of the objects I study. That trip and the subsequent writing process of my senior thesis further confirmed my desire to become a part of this academic community and to continue studying Latin American art and architecture in all of its forms.
Before I began my doctoral degree, however, I traveled to Madrid to undertake a master's in the History of Early Modern Spain at the Autonomous University of Madrid. The exposure to another academic system broadened my ideas about how information and knowledge is both produced and consumed. Since the curriculum was conducted entirely in Spanish, I left with an ability to properly explain both my daily and academic ideas with ease. Building upon my undergraduate interests in monastic complexes I studied Las Descalzas Reales and learned of often overlooked liturgical documents that can be used to elucidate their past ritual practices. And yet, despite the interest of this convent, I found myself constantly wondering if any of these same questions applied to those founded in Latin America, and how a history of these complexes could improve our understanding of religious live in the Early Modern period. Therefore, by the time I started my doctoral degree I was and remain confident that I would like to dedicate my life to studying and teaching Latin American Art and Architecture.
As my long-winded explanation bears clear, there was no singular Aha moment. I look forward to joining my peers and professors as we continue to grapple with the complex artistic legacy of Latin America. Given our current political climate both in the United States and abroad it is perhaps more necessary now, than ever before, to have scholarship that attends to both the local conditions of art production and the long durée of artistic practices in Latin America. Through thoughtful engagement with our past in all of its complexities I believe we can begin to untangle our deepest rooted prejudices and discover our pertinent societal questions that we have only just begun to ask.
Who has influenced you along the way?
I have been fortunate to have had many influential people contribute to my formation as both a scholar and human being.  Tom Cummins has been a constant guiding figure. In both his writing and mentorship Cummins has demonstrated how to attend to local individual cultural particularities within the global context of artistic production that was specific to the Viceregal world. Moreover, he carries forth the same passion and principles from his academic writing into his actual life, maintaining a deep curiosity for the art objects and close friendships with colleagues and students around the world. Furthermore, I am greatly inspired by the work of Teresa Gisbert. Not only did she produce incredibly thoughtful and insightful work regarding the artistic challenges faced by artists living in the Viceregal period, but she also utilized her publications and those jointly published with her husband to bring the art of Latin America to a wider public. Therefore, it is not only the methodology of inquiry utilized by both of these scholars, but rather their commitment to the development of the field that I hope to carry forward in my own research.
What kinds of programs and initiatives would you like to see supported in the field?
I believe that part of the continued predominance of local schools, such as the "escuela Cuzqueña" or "escuela Quiteña" stem from our propensity to systematically divide Latin America into manageable chunks, according to either cities or modern nations.  It is not that these workshops and centers of production were not important to the growth and development of art in Latin America, however, our overuse of these terms has simplified our understanding of artistic practice. We know through the painstaking archival research of many scholars that artists moved throughout the Andes from Colombia to Argentina. Their works moved just as frequently. Yet, it is incredibly hard to find quality images of many of these works, due to losses from weather, poor conditions, sales, and theft. Gisbert and Mesa began the herculean task of documenting and publishing much of this art in 1980, however, much still remains to be done in order to give a holistic understanding of the artistic production during the Viceregal period. I would love to see the creation of an online database that contains photos of all known art objects alongside the plans of churches and sites of interest throughout Latin America.
It would be impossible for a singular scholar to amass all of this information alone. Thankfully there are models, such as the Pessca project, which rely upon submissions by other scholars. These submissions are then attributed to the scholars who provided the information, further providing incentive for scholars to share both their photos and information. Since I do not have a background in computer science I am not sure if it would be best to have the information then cataloged on a map for viewers to browse or simply a word-search system, but both of these options, are just a few of the ways in which this information could be presented to the public.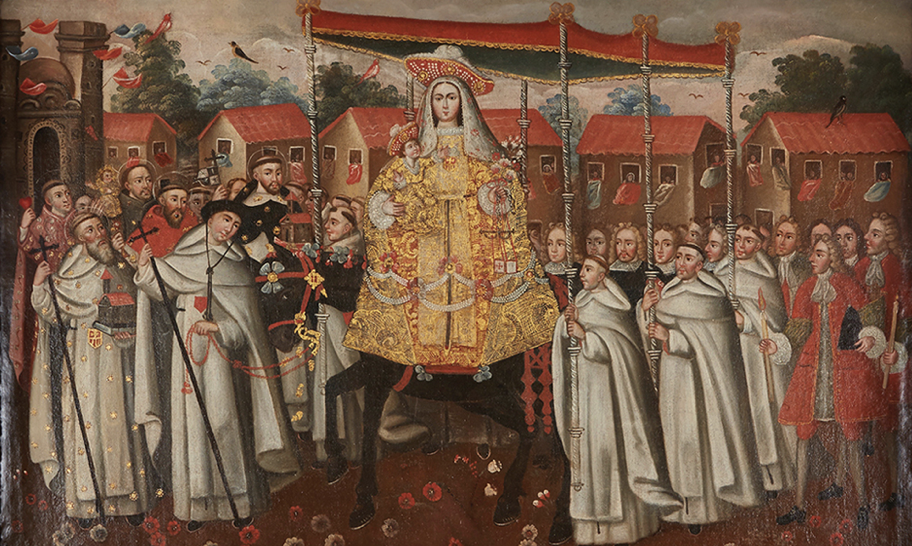 Unidentified artist, Cuzco, Peru, Our Lady of Mercy Entering Cuzco, c. 1730-35, oil on canvas. In our collection.
 I foresee this database as serving two distinct and complementary needs. First, through providing universal access to images of all known artworks, scholars can begin to break down traditional regional barriers and glimpse similarities, continuities, and differences across the Andes. Another benefit would be the ability to see the relationship between a painting and sculpture and the rest of the church, which in many regards was the principal way in which constituents encountered art in the Viceregal period.  Second, I believe that such a system could provide a means to give back to those whose art is displayed. Therefore, these images could offer each community with official documentation of their patrimony in the case of a dispute and/or theft. Additionally, while I am not fully certain of the proper economic model for remuneration, the images could be downloaded at a fee that would be sent to these churches in order to help them maintain the costs associated with protection and care of their churches. As is clear there are many specifics to be further examined, but I wholeheartedly believe that a universally repository of all known Latin American art is necessary for the future development of our field.
Briefly describe your current project(s) for a lay audience.
The relation between architecture and art collections of two seventeenth century convents, Santa Catalina and Santa Clara in Cuzco, Peru, form the basis of my dissertation. By the middle of the seventeenth century both convents were home to over one hundred and fifty black veiled nuns and were the most influential centers of female power in the Andes. A devastating earthquake, which struck the city of Cuzco in March 1650; however, destroyed both of these cloisters, necessitating a total reconstruction and redecoration of each complex. Therefore, this dissertation focuses specifically on the subsequent period of reconstruction to highlight the relationship between architecture, devotional art, and rituals to demonstrate the ways in which the nuns constructed, decorated, and utilized their cloisters to produce a sacred space that would enable them to recite communal intercessory prayers to God and to fulfill their spiritual and social roles in the Spanish Global Monarchy. 
How do you anticipate this award will impact your career and work?
I am extremely grateful to receive this award, which will enable me to fulfill my ambitious research goals this upcoming year in Cuzco. It would be impossible to write this dissertation without spending the full year in Cuzco, working closely with the nuns of both convents. I know that the relationships forged with both them and the greater academic community in Cuzco will lay the foundation for a long and productive career in the field and I look forward to the adventure.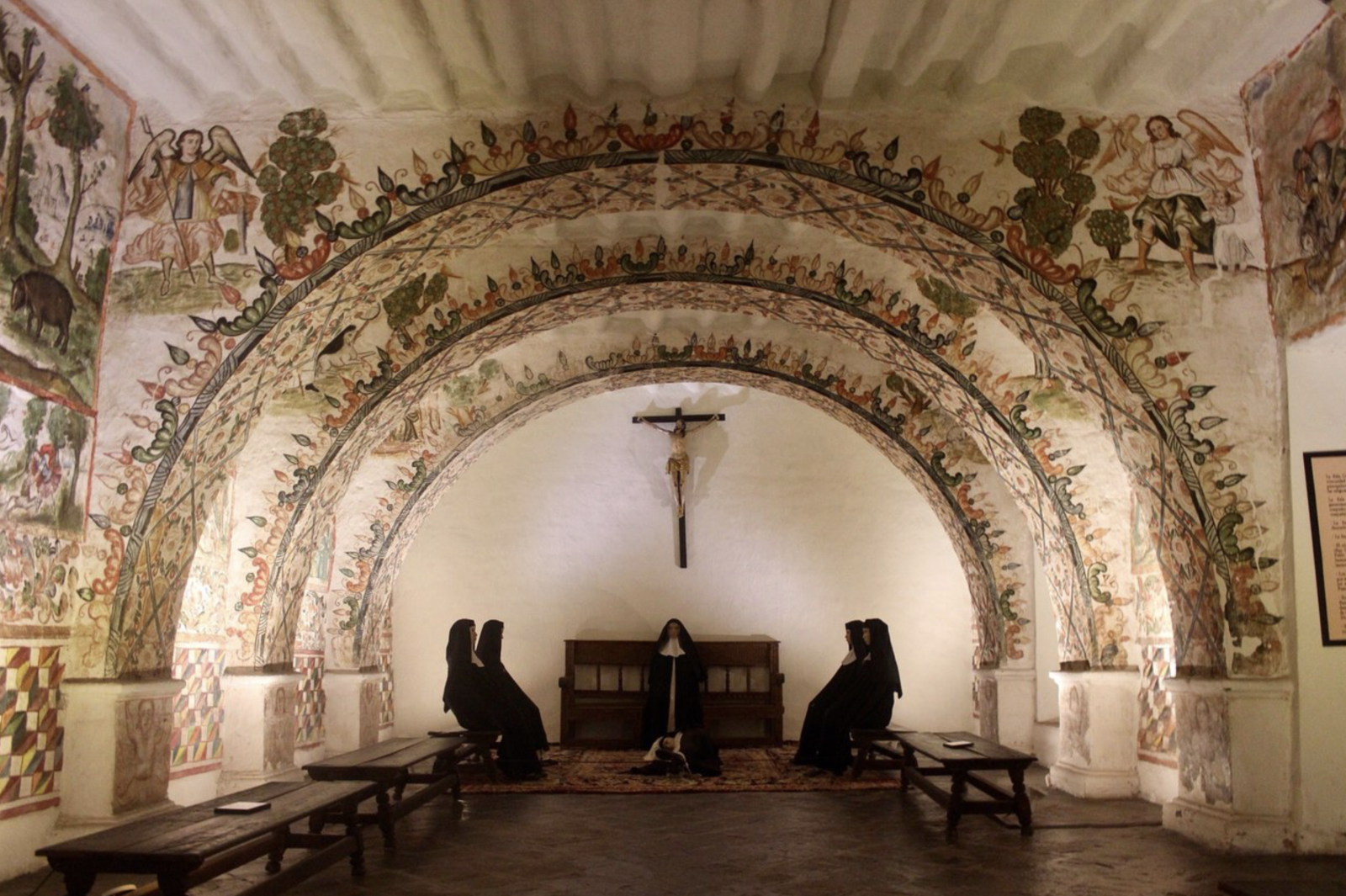 The convent of Santa Catalina in Cuzco, Peru. Photo via Tripadvisor.