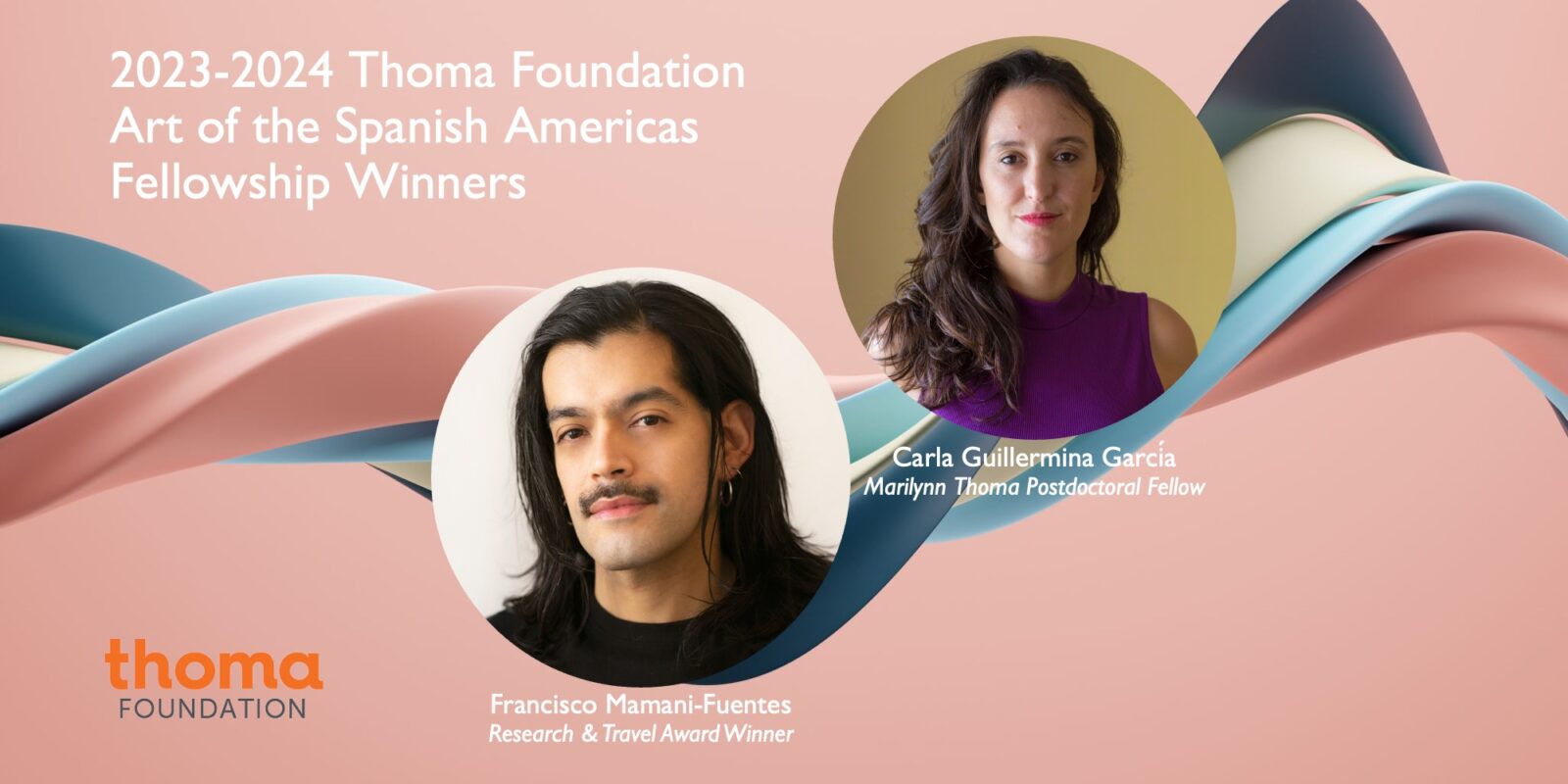 Thoma Foundation Announces 2023-2024 Awards in the Art of the Spanish Americas
This year, the Carl & Marilynn Thoma Foundation is pleased to award two scholars whose work advances our knowledge of the construction of historiography of viceregal Andean painting, and the artistic networks and the role of patronage of the Franciscan Order in Cusco during the second half of the seventeenth century. The fellows and award winners were selected from a competitive pool of international applicants based on their academic accomplishments, their scholarly commitment to the art of the Spanish Americas, and the relative merit of their projects. All awardees were chosen by a jury of experts in the field.
Now in their fifth year, the Marilynn Thoma Fellowships are the only unrestricted research funding in the United States devoted exclusively to the field of art of the Spanish Americas. Inspired by the Thoma Foundation's collection of over 210 works of art from the 17th to 19th centuries from South America and the Caribbean, these fellowships and awards promote original scholarship that significantly contributes to the understanding of the field.
Dr. Carla Guillermina García, Assistant Professor at Universidad de Buenos Aires and Universidad Nacional de San Martín, has received a Marilynn Thoma Postdoctoral Fellowship to support the development of her project La historia de la pintura altoperuana a partir de la posrevolución boliviana: imágenes, conceptos y representaciones culturales into a manuscript for publication. García's work examines the idea of "mestizo art" and how it was framed within the revaluation of colonial art in Bolivia after the National Revolution of 1952. Garcia's investigation analyzes the work of art historians Teresa Gisbert and José de Mesa and looks at the historiographic formation of viceregal Bolivian art history through a nationalist lens.
Dr. Francisco Mamani-Fuentes, Slicher van bath de Jong Postdoctoral Fellow of the Center for Latin American Research and Documentation of the Universiteit van Amsterdam, has received a Research & Travel Award to support their project After Disaster: Artistic and Patronage Networks in the Franciscan Order of Cusco (1650-1700). Mamani's archival investigation focuses on the Seraphic Order and their role as artistic patrons and as leaders of the reconstruction of the city of Cusco after the 1650 earthquake.
In addition, the Foundation has made its third round of Exploratory Travel Awards to support the work of graduate students embarking on initial thesis or dissertation research. This Spring, Camilla Miravalles (Universidad de Buenos Aires), and Daen Palma Huse (University College London), each received funding to facilitate travel to key archives and collections.
In March 2023, the Foundation welcomed Verónica Muñoz-Najár Luque as the new Curatorial Fellow in the Art of the Spanish Americas. Verónica's arrival marks an opportunity to rethink and revise the Foundation's strategic priorities within this art historical subfield. Director Holly Harrison explains, "Having just marked the fifth anniversary of the Art of the Spanish Americas awards, we're excited to gather feedback from our past fellows and to use that data to redesign this program to better serve the next generation of art historians and scholars in this field. Verónica was the first Marilynn Thoma Predoctoral Fellow in 2018 and her experience and expertise will be invaluable in creating a more dynamic, accessible, and supportive awards program."